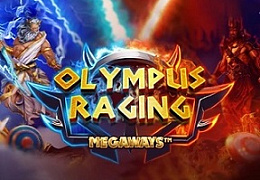 We had an enjoyable experience with the previous games in the series, Olympus Zeus Megaways and Olympus Hades Megaways. However, they didn't stand out as particularly remarkable. The same cannot be said for Olympus Raging Megaways, which offers a unique and captivating gameplay experience.
Play Olympus Raging Megaways Online Slot For Free
Olympus Raging Megaways RTP — 87%-96.07%
What is RTP in slots?
You need to check the RTP before playing Olympus Raging Megaways, casinos can reduce the percentage of returns to the player.
Play Olympus Raging Megaways For Real Money
Play Olympus Raging Megaways in trusted casinos. We give a guarantee for the casino in the reliable casinos section.
It is difficult to see how the studio could top bringing the two gods together as they did in Olympus Raging Megaways if there is a fourth episode in the series. In addition to bringing their distinct personalities and characteristics, Zeus and Hades are presented in a Dual Reel concept by the studio, which results in a more expansive overall experience than if Zeus and Hades had simply been thrown together in a single reel set to see what would happen.
After the dust settled on what appeared to be a rather titanic battle between two imposing figures from the ancient world, players may look forward to an enjoyable mashup of two already passionate deity-themed slots that have been crammed together to satisfy gamers for whom one reel set is simply insufficient.
Olympus Raging Megaways caters to gamers for whom one reel set simply isn't enough with its combination of two already passionate deity-themed slots.
It's a community widget, visit community tab for full experience
Olympus Raging Megaways
Olympus Raging Megaways Slot Review
Theme
Both the Zeus and Hades grids in Olympus Raging Megaways are fully equipped with the Megaways feature, including a top reel. One standout feature exclusive to this game is Mirror Wilds, adding an innovative twist. Additionally, the progressive multiplier bonus rounds from the previous games can trigger independently in Olympus Raging Megaways. Furthermore, they can combine forces in the thrilling Battle Bonus Round. This means that you'll encounter both random wilds and top-reel walking wilds, enhancing the excitement of the gameplay. The game's potential to award up to 25,000 times your stake adds a grand finale to iSoftBet's Greek mythology trilogy, truly making it an epic experience.
Olympus Raging Megaways Screenshots
Mechanics and Gameplay
Olympus Raging Megaways Slot offers an array of exciting features for an engaging gameplay experience. Here are the notable features:
Zeus Reel and Hades Reel: Both the Zeus and Hades reels spin simultaneously in each round, including their respective top horizontal tracker reels. Although the symbols may differ between the grids, their values remain the same.
Premium Symbols and Wilds: Premium symbols can award payouts ranging from 0.4 to 25 times your stake for six-of-a-kind wins. Additionally, Wild symbols substitute for other pay symbols to help form winning combinations.
Cascading Mechanic: Winning symbols are removed and replaced by new ones through the cascading mechanic. This process continues indefinitely as long as winning combinations occur, offering potential for consecutive wins.
Wheel of Kronos Feature: The Wheel of Kronos Meter is positioned between the two grids. Coins are hidden behind random pay symbols on both reel sets. When winning symbols appear, they reveal the coins, which are collected in the meter. Filling the meter with 12 coins triggers the Wheel of Kronos feature. The wheel awards cash prizes (x2, x3, or x5) or jackpots (Mini, Maxi, or Grand) worth 10x, 50x, or 100x your stake, respectively.
Mirror Wilds Feature: Matching symbols in the exact same position on both grids trigger the Mirror Wilds feature. All involved symbols on both grids transform into wild symbols. This feature only activates during the base game on the initial spin and requires the involved reels to have the same number of positions.
Max Megaways Feature: The Max Megaways feature activates randomly, maximizing both grids with the maximum number of positions per reel. This grants the highest number of win ways, totaling 235,298 across both grids.
Zeus Bonus Round: Landing 4, 5, or 6 Zeus scatters on the Zeus Reel triggers the Zeus Bonus Round, awarding 12, 17, or 22 free spins, respectively. The win multiplier starts at x1 and increases by +1 with each cascading win. Additional Zeus scatters on the top reel grant +5 or +10 extra spins. Zeus can turn symbols wild or add wilds to random positions during the feature.
Hades Bonus Round: The Hades Bonus Round activates similarly to the Zeus feature but requires Hades scatters on the Hades Reel. Hades adds a walking wild symbol to the rightmost position on the top horizontal reel, which moves one step to the left per subsequent spin until it reaches the leftmost position. Up to four walking wilds can be present at the same time, and each can be used once per spin.
Battle Bonus Round: The Battle Bonus Round triggers with a total of 4 battle scatters across both reel sets, awarding 15 battle free spins. This feature utilizes both grids, and landing 4 additional battle scatters on the same free spin grants +5 extra spins. The win multiplier is progressive and unlimited, increasing by +1 with each cascading win on either grid. Zeus adds random wilds to his grid, while Hades adds walking wilds to the top reel on his grid.
Bonus Buy Feature: In some jurisdictions (excluding the UK), players can purchase the Zeus or Hades bonus rounds for 75 times the stake or the Battle Bonus Round for 250 times the stake. This option allows players to access the respective features without waiting for them to trigger naturally.
The two prior games in this series weren't very noteworthy, but they were both respectable games on Greek mythology. They were, however, undoubtedly boosted above average by their strong math models and excellent audiovisuals. Olympus Raging Megaways is undoubtedly bigger and bolder than other Megaways releases.
Exciting dual grid gameplay

Innovative features

Progressive multiplier and unlimited free spins
Bonus buy restrictions

High volatility

Complex gameplay
Yes, Olympus Raging Megaways is often available for mobile play. Players can enjoy the game on their smartphones or tablets, ensuring flexibility and convenience in accessing the slot.
The maximum win potential in Olympus Raging Megaways is not explicitly mentioned. However, the game boasts a high volatility nature and offers a 25,000x potential in its top win, providing the opportunity for substantial payouts.
To trigger the Zeus or Hades Bonus Round, players need to land 4, 5, or 6 corresponding scatters on the respective reels. The Battle Bonus Round is triggered by obtaining a total of 4 battle scatters across both reel sets. These bonus rounds provide players with free spins and additional features to enhance their winning potential.