From millionaires to bankrupts: poker players who were left with nothing
The life of professional gamblers is like a roller coaster. Today you are at the peak of fame: you are photographed next to the mountain of money that you won in the tournament, you accept congratulations from your friends, seductive beauties interview you.
But it doesn't take long before you're already deep in debt. There is no trace of old friends, and beauties prefer to spend time with those who continue to be on the wave of success.
There is such an American expression: easy come, easy go - easy comes, easy goes. It describes well the role of money in the lives of many poker pros. History is full of examples of players who won millions and ended up with nothing. Today we will talk about the brightest of them.
Stu Unger
A three-time WSOP Main Event winner and one of the most talented players in poker history, Stu Unger has cashed in tens of millions of dollars. There were times when other people refused to register for the tournament when they saw his name there. Especially if it was a gin rummy card game tournament. Stu was so good that it didn't make sense for many to play - after all, the winner was already known in advance.
But if Stu was a real genius in the cards, and there the money simply stuck to him, in all other respects the situation was the opposite. Stu loved excitement and constantly visited the racetrack, where he bet big. He almost always lost. Stu would come to the golf course and, as soon as he could hold a club, would challenge people who had been practicing for years. At the same time, he bet six-figure sums. Poker friends, trying to give him any chance at golf, gave him a head start. But when it wasn't about cards, Stu was hopeless.
The champion liked to live in a big way. He handed out generous tips to dealers, waiters, and parking attendants. He treated friends to expensive drinks and paid bills in restaurants. He got money so easily that he did not even think that they might run out. But this way of life was painfully affordable. The situation only worsened when Unger became addicted to drugs.
Within a few years, Stu went from a respected player, WSOP champion, multimillionaire, to a bankrupt, begging old acquaintances to lend him a couple of thousand to play. Most refused, because they knew that this money would be immediately used to buy drugs.
In 1997, Stu managed to convince his longtime friend Billy Baxter to buy him a ticket to the World Series of Poker Main Event. It was then that he won the main event for the third time. But the million dollars that he received for the victory, Unger spent on drugs and gambling in just a year.
When Stu Ungar was found dead in a cheap hotel room, a few bucks in his pocket were all that was left of the more than $30 million he earned playing cards.
Mike Matusow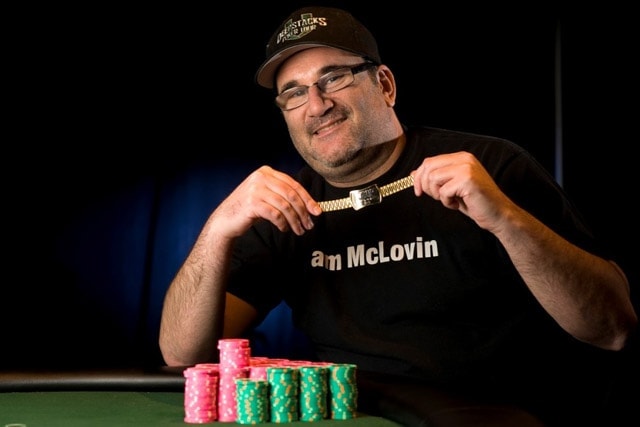 It is unlikely that there will be those who rank Mike Matusow among the strongest poker players, but he managed to become one of the most famous. Mike was often invited to TV poker shows as he liked to talk and add spectacle to the games. No wonder they gave him the nickname "mouth".
Matusow has played so long and so often that he's racked up a decent amount of poker trophies, including four WSOP bracelets and nearly $10 million in prize money. Once he even made it to the final table of the WSOP Main Event. True, he finished ninth there.
Mike was a frequent player in high stakes cash games, including those broadcast on High Stakes Poker and Poker After Dark. But given that he had to play there against top players, he rarely left the winner.
During his poker career, Mike has been left with nothing on several occasions. The desire for gambling, complete disregard for bankroll management and constant tilt led to the fact that he lost all the money he won and then had to start grinding from scratch.
The years 2014-2017 were especially difficult for him. Matusov suffered a serious bruise of the thoracic spine, could not walk, and there was a risk that he would forever be chained to a wheelchair. Expensive operations pulled him to the financial bottom. Mike even had to sell his house to pay for the treatment. Nevertheless, he recovered and immediately announced his intention to return to poker.
In 2017, Mike Matusow began to grind online again, trying to break out of the micros. It was probably not easy to play there after participating in the highest stakes games years earlier. But Matusov managed to grow his bankroll to $110,000, and after selling some of his shares, he returned to the WSOP series the following year.
He later commented on this trip as follows:
"The best WSOP of my life without a single skid."
Eric Lindgren

15 years ago, Eric Lindgren was one of the most famous poker pros. He was a member of the Full Tilt Poker pro team, showed excellent results in tournaments and often participated in televised high-stakes cash games. He was also close friends with poker stars Daniel Negreanu and Phil Ivey.
Eric was considered one of the most positive players in the poker community. Daniel Negreanu in his book Making Final Table wrote the following: "He is a very generous person who is always ready to help." Phil Hellmuth also praised Lindgren, calling him a player whom it is impossible not to sympathize with.
But after Black Friday, Eric's reputation began to quickly go downhill. People didn't like how Full Tilt handled the frozen money situation. In addition, Eric was an obsessive gambler and regularly bet on sports. In a short time, he managed to blow all the $ 10 million that he earned during his poker career. And then he got into debt that he could not pay.
In early 2012, a post appeared on the 2+2 poker forum discussing Lindgren's refusal to pay off a $100,000 debt for participating in the Fantasy Draft. The discussion with criticism and negativity towards Eric stretched for 99 pages. From a good character, Lindgren turned into almost a villain.
While his person was discussed on the Internet, he himself was undergoing rehabilitation in a clinic for the treatment of gambling addiction. In an interview with Bluff magazine, Eric commented on the 2+2 post:
"I don't deny that I owe some of the guys. Often, gamblers find themselves in a vicious circle where you have to rely on paying back your debt in order to pay it back to someone else. Black Friday is a very bad time for everyone. Therefore, many could not pay off with me. And I turned into a liar because I couldn't pay off my debts. Believe me, it really depresses me."
Whether Eric has recovered from his addiction or not is unknown, but he still plays poker. The Hendon Mob website shows that in 2019, Lindgren scored in at least seven tournaments, of which he even took first place in one.
Gavin Griffin
When Gavin Griffin won a WSOP bracelet in 2004, he became the youngest poker player to do so at the time. He was then only 23 years old. He later won the EPT Monte Carlo. Gavin played there, dyeing his hair pink to draw attention to the problem of cancer.
This player has over $5 million in prize money. He also became the first winner of the Triple Crown - one of the most honored achievements in poker, which can boast the owners of three bracelets: WSOP, EPT and WPT.
Despite all this, Gavin hasn't been seen much in the poker scene lately. In 2019, he played in several WSOP events, but did not show impressive results. And in tournaments more than $1.5 thousand, he does not appear at all.
What's the matter?
As Griffin wrote in an article for Cardplayer magazine, 2011 was the worst year of his life. Throughout the year, he did not feel well psychologically, made many rash poker decisions, and did not play according to his bankroll. Poker wasn't fun. And all this greatly affected his financial condition. He lost almost all the money he made in his poker career.
Gavin promised himself to fix everything. He began to pay more attention to the study of strategies and played at small limits in obscure casinos in order to avoid familiar faces. He was simply ashamed in front of his friends with whom he had previously celebrated his successes.
He never managed to return to big poker. But judging by the posts on his twitter, it seems that he still established his personal life.
Archie Karas
Greek by birth, Archie Karas was one of the biggest whales in Las Vegas. He was ready to play anything, with anyone and for any amount. In his youth, he hunted by playing pool, undressing tourists, and later switched to poker.
In December 1992, after losing all his money, Archie went to Las Vegas with $50 in his pocket. There he met an acquaintance with whom he had previously crossed paths at the poker table. Archie convinced a friend to lend him $10,000. With that money, he sat down to play limit Razz with $200/$400 blinds and quickly tripled his capital. Thus began the most incredible streak of luck in the history of gambling.
Now with a bankroll, Archie began to play pool against a rich businessman, the same incorrigible gambler as himself. Bets started at $5,000 per game, but the more Karas won, the more was at stake. At the end of the match, Archie Karas was in the black by $1.2 million. After that, the gamblers went to the casino to play poker against each other. This made Archie richer by another $3 million.
Having defeated his rival, Karas settled in the Binion's Horseshoe casino and challenged everyone who wanted to fight him. All they had to do was agree to play at the highest stakes ever seen in Las Vegas.
Many of the strongest poker players came up against Archie, including Stu Unger, Chip Reese and Johnny Moss. But they all only added to his bankroll. The stakes were such that even seasoned players lost their nerves. Archie Karas did not care about money at all. And he used the fear of rivals to go broke in full.
At the peak of success, Karas had about $40 million in his account. But the fantastic upstreak ended at the end of 1995. Since no one else wanted to play poker with him, the gambler had to look for action on the dice and baccarat tables. There he left all his winnings for a few weeks.
It is noteworthy that the loss of 40 million did not break Archie. He continued to play, and incredible streaks in his life happened more than once.
"I repeatedly turned from a beggar to a millionaire, and then back again," Karas proudly told reporters.
On account of his arrests on charges of fraud, incredible disputes. The life of this gambler was so colorful, one wonders why a Hollywood movie has not yet been made about it. Although, who knows, maybe we will see him again ...