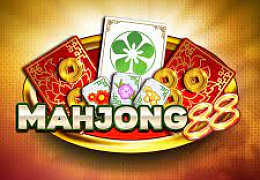 In the original, the Chinese mahjong gambling game has complex rules, requires good theoretical knowledge and remarkable practical skills.
Play Mahjong 88 Online Slot For Free
Mahjong 88 RTP — 78%-96.62%
What is RTP in slots?
You need to check the RTP before playing Mahjong 88, casinos can reduce the percentage of returns to the player.
Play Mahjong 88 For Real Money
Bull in a Rodeo
By Play'n GO
Rich Wilde and the Tome …
By Play'n Go
Champions of Mithrune
By Play'n GO
ZZ Top Roadside Riches
By Play'n GO
It's a community widget, visit community tab for full experience
However, most people outside the PRC know it in a simplified version, presented in a solitaire format. Surely you also played mahjong on a computer or smartphone, removing pairs of identical tiles. This variant formed the basis of Play'n GO's Mahjong 88 slot. Read about the unusual rules and unique bonuses of the new model in the review. Mahjong 88 is not a traditional slot machine. There are no drums. The icons are lined up on the playing field in an 8x8 grid. At the beginning of each round, a new set of tiles appears. The goal of the game is to collect a straight or broken chain of at least four identical pictures. Elements should touch each other at the edges, but not at the corners. The longer the sequence and the more valuable the symbols, the bigger the win. The bet is accepted per round. It can be from ten cents to one hundred euros. Mahjong 88 features different types of icons, several bonus features and additional prize options. Payouts are calculated according to the current rate and special coefficients allocated for all possible combinations. There can be several combinations in one round. After the win for the chain is credited, the symbols from this sequence change to new icons. If a combination is formed again, the process starts again. The number of such launches in one round is not limited. There is no doubling game.
Mahjong 88: Wild, Scatter Symbols
Mahjong 88 Bonus Games
Mahjong 88 Screenshots
Mobile version
Mahjong 88: Wild, Scatter Symbols
The symbols mimic the tiles traditionally used in the game of mahjong. These are rectangular elements with dots, colors and various icons applied to them. Concealed Tiles - These items initially have no tags on them, but then turn into pictures that can form combinations in a given situation. Season Wilds - These are four wilds named after the seasons. They appear in the form of bonuses. Jokers can appear on the screen in any draw. They occupy several cells at once and replace other icons in chains.
Mahjong 88 Bonus Games
Let's describe the prize functions. Let's start with the scale located to the right of the playing field. It fills up when winning chains are formed. When it reaches certain levels, bonuses start. Fortune Frog - "Fortune Frog" comes to life when the scale is filled to thirty-three positions (according to the total number of symbols in combinations). In this case, one of four options is activated: Croak - One set of symbols pays according to the principle of scatters. Spawn - One set of icons spawns into a different type of symbol. Tongue - A line on the screen is randomly selected. All icons on it are transformed into other elements. Hop - One symbol changes to another and destroys the pictures around it. Super Charge - When the scale reaches 88 points, all winnings are multiplied by five. There are also seasonal bonuses. Season Bonus - They are named after the seasons and are randomly triggered. The seasons change on their own. In such cases, payments increase, as well as other privileges come into force. All bonuses are triggered automatically.
Mahjong 88 Screenshots
Mobile version
You can play Mahjong 88 on smartphones. In this version, the model has a special arrangement of buttons and is less demanding on the power of the device.
Obviously, what you get here is a representation of the old game rather than the actual game of Mahjong. As a result, players risk falling asleep when playing a slot with a pretty uninteresting and busy theme, eye-straining tiles, and a background tune. If you can live with that, Play'n GO has released a grid slot that is just as nice as any other, so you shouldn't be let down.
Huge number of bonuses

Interesting payment system
Not very high RTP

The level of volatility is below average.
The 8x8 grid is filled with higher value flower symbols.
When the Fortune Frog metre reaches 33 winning symbols, which happens after each win, you will activate the Fortune Frog bonus feature.
You can play Mahjong 88 for real money at one of the listed casinos.