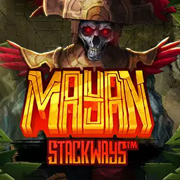 Hacksaw Gaming has ventured into the realm of Mayan culture with their latest release, Mayan StackWays™. While they previously explored the Mesoamerican jungle in Aztec Twist, this innovative game introduces a brand new dynamic grid mechanic.
Play Mayan StackWays Online
Mayan StackWays RTP — 88.38%-96.23%
What is RTP in slots?
You need to check the RTP before playing Mayan StackWays, casinos can reduce the percentage of returns to the player.
It's a community widget, visit community tab for full experience
Mayan StackWays - Site review
Reels can now be stacked with up to 10 matching symbols, guaranteeing a win with each occurrence. With up to 100,000 ways to win, players have the opportunity to unlock the game's impressive 10,000x potential even in the base game.
Theme
Set within the confines of a jungle temple, the stone symbols descend down the reels in classic Mayan fashion. Accompanying you on this adventure is a Mayan shaman with a zombie-like appearance. The excitement of StackWays continues in the Stack Spins bonus round, offering even more thrilling gameplay. Additionally, players can anticipate the Mayan Gold feature, where coin values accumulate and attach to stacks for the final rewarding spin. For an added boost, there is even a Golden version that begins with a 50x multiplier per reel.
Features
In Mayan Stackways, winning combinations are formed by landing 3 or more matching symbols on adjacent reels, starting from the leftmost reel. The premium symbols in the game offer payouts ranging from 2 to 4 times your stake for a 5-of-a-kind win. While there are no Wild symbols in this game, there are several other exciting features to explore.
The standout feature in Mayan Stackways is the Stackways symbol, which can appear on any reel. When this symbol lands, it stacks between 2 and 10 matching symbols onto the affected reel(s). This significantly increases the number of win ways available, and if all reels are stacked to their maximum, you can enjoy up to an impressive 100,000 ways to win. The symbol chosen for stacking is the one that forms the longest winning line, and the stacking feature is only activated when it results in a winning combination.
To trigger the Stack Spins Bonus Round, you need to land 2 skull scatter symbols anywhere on the reels. This will award you with 10 free spins. During the bonus round, the appearance of Stackways symbols becomes more frequent, enhancing your chances of landing big wins. Additionally, the Reel Activator symbol can activate specific reels, ensuring that Stackways symbols land on each spin for the remainder of the bonus round. If you manage to land 3 skull scatters on the same free spin, you will be rewarded with an extra 4 spins.
Mayan StackWays Screenshots
Bonus rounds
The Mayan Gold Bonus Round is activated when you land 4 skull scatter symbols on the reels. During this bonus round, along with blank symbols, you will also come across Coin symbols. These Coin symbols contribute their respective values to the counters above each reel. There are three levels of coins: bronze, silver, and gold. Bronze coins add 1-5 to the counter, silver coins add 10, 15, or 20, while gold coins can have values ranging from 25 to 1,000. Additionally, there is an 'X' multiplier symbol that can appear, multiplying the current reel counter value by x2, x3, x4, or x5.
As you progress in the bonus round, Stackways symbols will start appearing on different reels. These symbols fill the relevant reel with stacked coins corresponding to the current reel counter value. When a reel is stacked, it stops spinning, but you can still land a Collect scatter symbol on other reels. The Collect symbol gathers all the coins from the stacked reels and stores their total value in a vault below. This action unlocks the involved stacked reels. Once all reels are stacked, the total value of the coins (including those in the vault) is summed up, resulting in your win for the bonus round.
In addition to the regular Mayan Gold Bonus Round, there is also a Golden Opportunity version that triggers when you land 5 skull scatter symbols on the reels. In this golden version, each reel starts with a value of 50. This special bonus round can only be triggered organically and offers increased potential for larger wins.
It's important to note that the Bonus Buy menu, allowing direct access to the bonus rounds, may be available in some jurisdictions but not in the UK. There are four options within the Bonus Buy menu:
BonusHunt FeatureSpins: This option, with high volatility and an RTP of 96.33%, requires you to pay 3 times your stake. It increases the likelihood of triggering one of the bonus rounds by 5 times.
StackWays FeatureSpins: This option, with very high volatility and an RTP of 96.27%, requires you to pay 40 times your stake. It guarantees a spin with 2 Stackways symbols. However, it's important to note that having 2 or more Stackways symbols does not guarantee that the feature will trigger. The feature only activates when you are guaranteed to win.
Stack Spins Bonus: This option, with high volatility and an RTP of 96.32%, requires you to pay 110 times your stake. It grants you access to the free spins round with the Stack Spins feature.
Mayan Gold: This option, with medium volatility and an RTP of 96.32%, requires you to pay 200 times your stake. It allows you to participate in the regular Mayan Gold bonus round.
In contrast to the Megaways engine where wins are not guaranteed, with the Mayan StackWays mechanic, every time the reels get stacked and the number of win ways increases, you are ensured a win. The only uncertainty lies in how much your win will be on each occasion. This guarantee of a win adds to the excitement of the game. The Stack Spins round enhances this excitement even further, offering more opportunities for rewarding outcomes.
Innovative Mechanics

Engaging Features

High Potential Payouts
Bonus Buy Restrictions

Volatility

Lack of Wild Symbols
The Mayan Gold feature can only be triggered by landing four or more skull scatters. It does not occur during the base game unless you activate the Bonus Buy option.
The Mayan StackWays mechanic can provide up to 100,000 ways to win when all reels are stacked to the maximum capacity of 10 symbols.
No, the Bonus Buy feature is not available for players located in the UK. It is accessible in specific jurisdictions, but its availability varies depending on local regulations and restrictions.