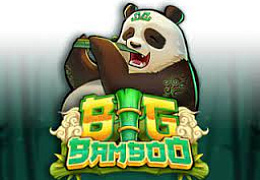 Push Gaming is back, this time with a slot where everything revolves around cuddly pandas and bamboo. When you look at the maximum win and the features of the slot machine, CasinoJager immediately gets flashbacks to Razor Shark. You play Big Bamboo on a 5×6 field with 50 static paylines.


Big Bamboo RTP — 96.13%
What is RTP in slots?
You need to check the RTP before playing Big Bamboo, casinos can reduce the percentage of returns to the player.
It's a community widget, visit community tab for full experience
Just like Razor Shark, Big Bamboo is packed with features that allow you to win a hefty prize, but also be very well entertained. How about Free Spins, Mystery symbols and a Gamble feature? This is just part of what Big Bamboo has to offer.
The betting range of Big Bamboo starts at €0.10 and you can bet up to €100. The payout percentage of the slot machine is also not disappointing at 96.13%. Will Big Bamboo be a success again or will it disappoint in practice?
How does the slot machine work?
In order to win with the basic game, at least 3 of the same symbols must land next to each other on one of the paylines. The win is valid if the symbols land on a line from left to right and if the first symbol lands on the far left reel.
After you have started Big Bamboo, you can get started right away. The slot machine uses a standard bet of €0.40. You can of course adjust this before you start using the options below the playing field. You can also do this at any time while playing.
Big Bamboo has a total of 12 different symbols in the base game. The panda is the symbol with the highest value. You only need 2 of these to win a prize. Furthermore, there are 8 other symbols with a paying feature. There are also 3 symbols with a special effect, of which 1 also pays a prize.
Big Bamboo Bonus Features
When it comes to bonus features, Big Bamboo has you covered. Just like in other Push Gaming slots, the number of features is anything, but a disappointment and they can therefore provide significant profits. You can read below what they are, what they do for you and how you trigger them
Wild symbol
The double reel symbol in Big Bamboo is the Wild. This symbol replaces all paying symbols in the game, so if 1 (or more) lands in your playing field, your chance of winning immediately increases. If you involve 2 or more in a winning combination, the Wild will also pay out its own cash prize. The Wild can land anywhere in the field.
Mystery Bamboo
This mysterious symbol can land anywhere in your field, and when this bunch of bamboo lands in your field, it reveals a random other symbol.
Golden Bamboo
If the Mystery reveals a Golden Bamboo, you trigger the Golden Bamboo feature. If there are more than one in your field, they will each run 1 of the prices below:
Instant Prize: An instant cash prize worth 1 to 5,000 times your stake
Collector: collects the value of all other instant prize symbols currently in your field. Does the entire Golden Bamboo feature stay in place
Multiplier: multiply the value of direct prizes or Collector symbols by a value between 2 and 10
You can also encounter the Scatter and the Gamble Scatter during this feature. Just like in the base game, a Gamble Scatter can land on reel 4 if you land a normal Scatter on reels 2 and 3. The Gamble Scatter reveals 1 of these results:
blank box
4 to 9 Free Spins
7 to 9 Free Spins with 2 low value symbols that transform into Mystery Bamboo
8 to 10 Free Spins with all 4 low value symbols transformed into Mystery Bamboo
Gamble
This feature is triggered the moment the Gamble Scatter reveals one of the two lowest options in triggering the Free Spins. This can cause your prize to upgrade, but if you lose the Gamble, you lose everything you won in Free Spins.
Free Spins
So trigger through the Scatters and Gamble Scatters. If a Scatter lands during the feature, it is collected with the symbol with the lowest value. Its progress is tracked in a special meter located to the right of the field.
Every symbol that is transformed earns extra Free Spins and gets a higher multiplier:
First symbol: 4 extra Free Spins + active x2 multiplier
Second symbol: 3 extra Free Spins + multiplier of x3 active
Third symbol: 3 extra Free Spins + multiplier of x5 active
Fourth symbol: 2 extra Free Spins + active x10 multiplier
If the Gamble Scatter lands, you will not play the Gamble Feature but you will earn 1 to 3 extra Free Spins.
Buy Bonus
If you prefer to start with Free Spins right away, you can trigger them manually. You can choose from 4 different flavours:
99 times your stake: 7 to 9 Free Spins with no symbol converted
179 times your stake: 7 to 9 Free Spins with 2 symbols converted
608 times your stake: 8 to 10 Free Spins with 4 converted symbols
300 times your stake: any number of Free Spins and converted symbols.
Big Bamboo Screenshots
Big Bamboo is definitely a big slot. Not only is the playing field large, but also the number of features and the maximum profit are very large(s). The design of Big Bamboo looks nice and simple, not too much distraction, but nevertheless a very strong design in which the theme comes out well in all aspects.
With the wide betting range and the maximum win of 50,000 times your stake, you can go as crazy as you want. Players of all budgets can feel welcome in this slot.
We are very impressed with the number of features of the slot machine and how it works. There is absolutely no question of boredom when you try out Big Bamboo. Push Gaming once again lives up to its reputation.


Nice graphics and sound;

The presence of a bonus game;

High volatility;

Availability of special functions;

Possibility of paid activation of free spins;

Interesting gameplay
The maximum win is x50000.
The maximum bet is 100 dollars.
The Big Bamboo slot has 50 lines.