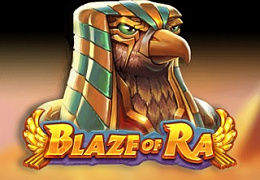 Blaze of Ra is one of those slots that actually appeals to you even before you spin the first spin. Ra standing next to the slot machine (and it looks like) and you imagine yourself in a sandstorm in a red-hot Egyptian desert. The slot machine looks great graphically. All graphic details have been worked out to perfection by Push Gaming.
Play Blaze or Ra Online Slot For Free
Blaze or Ra RTP — 94%-96.4%
What is RTP in slots?
You need to check the RTP before playing Blaze or Ra, casinos can reduce the percentage of returns to the player.
Play Blaze or Ra For Real Money
Tiki Tumble
By Push Gaming
Fat Drac
By Push Gaming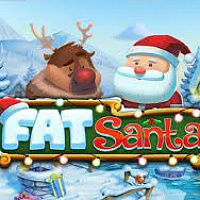 Fat Santa
By Push Gaming
Jammin' Jars
By Push Gaming
Blaze of Ra slot Big Wins
Blaze of Ra offers medium-high volatility, which means that the wins will not be frequent, but big. The RTP is 96.4%, however, remember that the provider allows you to underestimate the return percentage, so check this information before starting the game.
What is the maximum possible win in Blaze of Ra?
The maximum possible win in the Blaze of Ra slot is not too impressive and is equal to x2049.
Top Big Wins at Blaze Of Ra
There are practically no large, and even more so, maximum winnings in the network. We found a few interesting ones, but they won't be particularly impressive.
Mr.Freespin – x 74
Thanks to the bonus game and its functions, the player collected good combinations and received a good win. Despite the fact that there are not so many "X's", but taking into account the large bet, the winnings amounted to 37,000 Romanian lei, which is 7,000 in euro terms.
Unknown player - x234
Thanks to the bonus game and its function with 3 wild sticky symbols on reels 1, 3 and 5, the player has collected several good combinations in 5 spins, which brought him this win.
Mr Green Global – x 579
In the bonus game, the player managed to catch 6 high-paying symbols between the three bonus symbols of the "God of Ra" in the first spin, thanks to which this big win was achieved.
What are the chances and is it even worth trying to get max win in Blaze Of Ra?
I recommend that you do not waste your time and money on this slot. We couldn't even find a video of big winnings, let alone the maximum one. Other than that, the maximum win potential is only x 2049, which is clearly not worth the time and risk involved.
It's a community widget, visit community tab for full experience
There are certain things that you cannot avoid as a game provider. One of those things is making a slot game about ancient Egypt, more specifically about the sun king Ra. Of course, we have Book of Ra and the many clones, but also Coins of Egypt (NetEnt) and Play 'n Go even sent those annoying Irish gnomes to Egypt in Leprechaun Goes Egypt. And there are dozens of other slots. Push Gaming comes with Blaze of Ra.

You make bets from € 0.20 and up to a maximum of € 100. For that money, 5 reels spin that each yield 4 symbols and are good for 40 paylines in total. Blaze of Ra has a medium-high variance and if you adjust your bet during some features, you start from scratch. So think carefully about your bet in advance. CasinoFisher says: don't start too big on Blaze or Ra.
The symbol of Ra is the symbol that matters in the base game. This symbol pays out up to 2,000 times the bet per payline (50 times your total bet per combination of five), is Wild for all other symbols and you often immediately get the Nudging Wilds feature.
You have this Nudging Wild feature when a Ra symbol appears in the top half of your game screen. That is, somewhere on the first two rows. The reels that have your Ra ​​symbol on will not spin on the next spin but will be moved down two positions. You then benefit from the Wild symbol again. Since Ra is often stacked on the reels, you also have a good chance of getting even more Wild symbols and therefore even more Nudging Wilds.
Blaze of Ra payouts
Free Spins
Blaze of Ra Screenshots
Blaze of Ra payouts
Sun god Ra is of course by far the most important symbol. However, there are also other symbols that pay out reasonably well.
For example, we have Bastet, a Goddess with the head of a cat. Bastet was the celebratory song among Egyptian Gods. You win up to 800 times the bet per payline (20 times your total bet) when a combination with Bastet symbols spins.
The opposite of the party number was Anubis, the God of funerals. Anubis can be recognized by its jackal head. In Book of Anubis he plays the lead role, but in this Blaze of Ra slot machine he is on the third plan. You win up to 600 times your stake (15 times your total stake) if you spin Anubis five times.
Other symbols that will pay you off in Blaze of Ra are the Ankh cross (up to 400 times the stake per payline), a wax scepter (up to 300 times the stake per payline), the eye of Horus (up to 200 times the stake per payline ), the lotus flower (up to 100 times the stake per payline) and four playing card symbols.
Free Spins
No ancient Egyptian who dared to kick down a dung beetle. The Scarabaeus Sacar (short: Scarabee) was a sacred animal, because at the time it was thought that this animal just arose out of nowhere from a heap of manure. You see the Scarabaei popping up in many slot machines that have been inspired by the beautiful stories from ancient Egypt.
You get one or two bonus spins per Scarabaei you spin. That's not much, but you get three reels with Wild symbols. Ra then moves from next to the slot machine to the first, third and fifth reel. Since most symbols are on the second and fourth reels, that prize is shooting.
A screen full of Ra is one of the possibilities. This will give you 2,000 times your total bet. And the Nudging Wild feature for even more winnings.
Every Scarab you spin will give you an extra bonus spin.
Blaze of Ra Screenshots
Blaze of Ra is one of the best slots launched in 2018. Have you barely heard of it? Push Gaming does not have the marketing budgets that competitors such as NetEnt do.
Blaze of Ra is a slot game with an exciting gameplay and great winning possibilities in the bonus game. Push Gaming has opted for a short, but powerful bonus game. That is a lot more exciting than 46 bonus spins in which little or nothing extra happens.
Nudging Wilds

Wild Reels

Free Games
Graphics of the game can be better
The RTP or Payout Percentage is 96.4%.
Blaze of Ra is a medium-high volatility game.
The maximum you can win is 2000x your bet.