Yggdrasil Wins RNG Casino Provider of the Year Award
Maltese online casino game developer Yggdrasil Gaming Limited has announced that it has received the much-coveted RNG Casino Provider of the Year award at the recent International Gaming Awards in London.
The innovator, headquartered in Sliema, a suburb of northern Valletta, announced in an official press release on Wednesday that this is the sixth year in a row that the company has received a prize from a series of prestigious industry awards. It details that the most recent award also came a year after the company was named Innovator of the Year at the previous edition of the International Gaming Awards.
Established in 2013, Yggdrasil Gaming Limited said that receiving the RNG Casino Provider of the Year award means it has been recognized as a provider that offers "excellence in product development, innovation and user experience."
The company stated:
This distinction has further solidified our already good reputation for delivering the most consistent returns on bettors' wagers while providing clients with the highest possible return on their investment.
Comments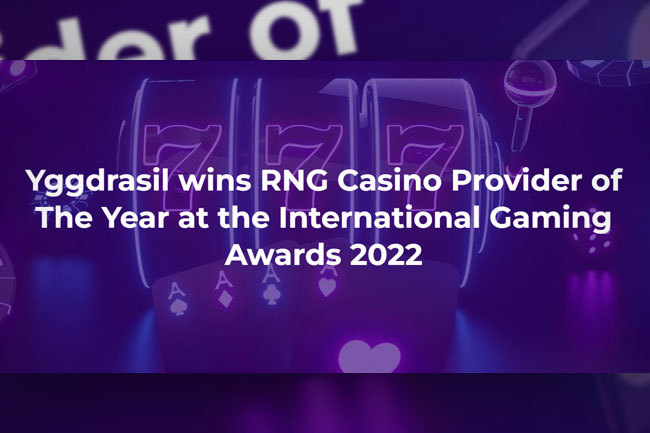 Fredrik Elmqvist is the CEO of Yggdrasil Gaming Limited. He used a press release to announce that this year's edition of the International Gaming Awards was held at the Savoy Hotel on Monday to honour the best of the brightest providers and operators in the online gambling industry.
The head of the company also said:
Our company's pre-configured and ready-to-adjust GATI Advance allows partners to use a standardized set of development tools to consistently produce cutting-edge content for rapid distribution.
Elmquist's statement reads:
This is proof that our focus is on innovation, quality and making sure the content is great across the board with solid mechanics and math. It also shows that all the hard work put into developing our pioneering GATI platform has further solidified our market position as an industry innovator. Receiving a second award again this year, especially such a prestigious one, fills me with pride.
Manufacturer portfolio
Yggdrasil Gaming Limited offers online casino operators around the world a selection of approximately 180 video slots as well as a list of game offerings:
blackjack,
roulette,
baccarat.
In addition, in September 2020, the company introduced its state-of-the-art Game Adaptation Tool and Interface (GATI) solution to enable other developers to rapidly scale their processes.