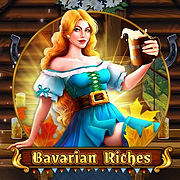 The online casino world is teeming with a diverse array of slot games, each vying for players' attention. Amid this digital sea of spinning reels and flashing lights, one slot manages to stand out as a memorable and immersive experience.
Play Bavarian Riches Online Slot For Free
Bavarian Riches RTP — 78%-96.16%
What is RTP in slots?
You need to check the RTP before playing Bavarian Riches, casinos can reduce the percentage of returns to the player.
Play Bavarian Riches For Real Money
Play Bavarian Riches in trusted casinos. We give a guarantee for the casino in the reliable casinos section.
Book Of Sirens
By Spinomenal
Book of Skulls
By Spinomenal
Egyptian Ways
By Spinomenal
Majestic King
By Spinomenal
It's a community widget, visit community tab for full experience
Bavarian Riches
Bavarian Riches Slot Review
Design Dynamics: An Authentic Bavarian Adventure
From the moment you launch "Bavarian Riches," it's evident that this game is more than just a collection of pixels on your screen; it's a visual feast. The entire design is meticulously crafted to transport players to the heart of Bavaria, Europe's beer capital. The blue-planked reels adorned with polished icons immediately evoke a sense of authenticity. These symbols are not mere images; they are storytellers, narrating tales of Bavaria's deep-rooted love for beer and merriment.
How to play Bavarian Riches
The backdrop is equally captivating, featuring a lively beer garden that sets the stage for an unforgettable beer-soaked gala. Every graphic element, from the beer mugs to the pretzels, is a nod to Bavaria's rich beer culture. Spinomenal has managed to capture the essence of Oktoberfest and deliver it straight to your screen. The design dynamics of "Bavarian Riches" are nothing short of exceptional, making it a visual treat for players.
Slot Mechanics
While aesthetics play a significant role in creating an immersive experience, a slot's mechanics are equally crucial. "Bavarian Riches" strikes a fine balance between simplicity and engagement, making it accessible to both novice and experienced players. With a layout featuring six reels and twenty paylines, it doesn't overwhelm players with complexity.
Symbols
The choice of symbols is where the game truly shines. Each symbol is carefully selected to resonate with the Bavarian theme. From pretzels and green German hats to the familiar playing card icons, each symbol tells a unique story. However, the star of the show is undeniably the German lady with her beer mug. This character serves as the Wild symbol, gracefully stepping in to replace regular symbols and create winning combinations for players. It's a fitting tribute to the Bavarian beer culture, and every appearance of the Wild symbol feels like a toast to good fortune.
Adding to the excitement are two clinking beer mugs that act as the Scatter symbol. When these mugs appear three to six times anywhere on the reels, they usher in instant rewards, bringing the festive spirit of Bavaria to life. For those who prefer a more relaxed gaming experience, "Bavarian Riches" offers an autoplay feature, allowing you to sit back and enjoy your virtual beer while the reels spin on their own.
Bavarian Riches Screenshots
Free Spins & Bonus Buy
It's worth noting that "Bavarian Riches" doesn't feature traditional Free Spins or Bonus Buy options. Instead, it relies on the thrill of its base game and Scatter wins to keep players engaged. While some may miss the familiarity of Free Spins, the absence of these features doesn't diminish the overall enjoyment of the game. "Bavarian Riches" finds its charm in simplicity and authenticity, offering players a refreshing departure from the usual slot game conventions.
In summary, "Bavarian Riches" is more than just a slot game; it's a full-fledged Oktoberfest experience brought directly to your screen. This game transcends the ordinary, immersing players in the vibrant and lively atmosphere of Bavaria's beer culture. With its seamless blend of authentic design and engaging features, "Bavarian Riches" guarantees players not only a good time but also the potential for instant wins.
Immersive bavarian theme

Engaging visuals

Simplicity and accessibility

Wild symbol and scatter wins

No free spins or bonus buy
Lack of free spins

Limited bonus features

May not appeal to all players
No, "Bavarian Riches" does not include a traditional Free Spins feature. Instead, the game relies on Scatter wins and its base game for excitement.
Yes, the game offers an Autoplay feature, allowing players to set the number of automatic spins while they sit back and enjoy the gameplay.
"Bavarian Riches" does not feature traditional bonus rounds. It primarily focuses on the base game and Scatter wins for player entertainment.