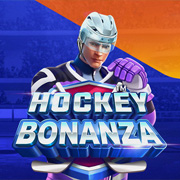 One of the inherent challenges with sport-themed slots is their limited appeal to players who aren't particularly interested in that specific sport. Hockey Bonanza, for instance, may struggle to captivate individuals who have little to no interest in hockey.
Play Hockey Bonanza Online Slot For Free
Hockey Bonanza RTP — 94.05%-96.50%
What is RTP in slots?
You need to check the RTP before playing Hockey Bonanza, casinos can reduce the percentage of returns to the player.
Club Tropicana
By Pragmatic Play
Octobeer Fortunes
By Pragmatic Play
Pizza!, Pizza?, Pizza!
By Pragmatic Play
Lamp of Infinity
By Pragmatic Play
It's a community widget, visit community tab for full experience
Hockey Bonanza
Hockey Bonanza Slot Review
Understandably, it can be tempting to opt for a reskin approach to appeal to a wider audience. Pragmatic Play has taken this route by reusing the framework of Gates of Aztec, which itself was a remake of Pragmatic's highly successful game, Gates of Olympus.
Visually, Hockey Bonanza doesn't offer much that is particularly engaging. However, on the right-hand side, you'll find a hockey player demonstrating some skill moves at regular intervals. From a gameplay perspective, it retains the technical prowess and enjoyable experience found in the original Greek mythology-themed release. Yet, it doesn't evoke the same sense of freshness and excitement as before.
Game Play
Symbols
Hockey Bonanza Screenshots
Bonus Rounds
Game Play
During gameplay, you'll encounter additive multiplier symbols that can reach up to x500 across all stages. These symbols contribute to the global win multiplier in the bonus round, which does not reset and continues to build up potential winnings.
While Hockey Bonanza may not bring forth any groundbreaking visual elements or novel gameplay mechanics, it still offers a solid and enjoyable gaming experience for those who appreciate the sport of hockey and seek the potential for lucrative multipliers.
Symbols
In Hockey Bonanza, the premium symbols offer rewarding payouts ranging from 12 to 50 times your stake when you land 12 or more matching symbols anywhere on the grid. To achieve a win, you must have at least 8 matching symbols in view. The Tumble feature comes into play, removing winning symbols and allowing new and/or existing symbols to drop down from above to fill the gaps. This process continues as long as your winning streak persists, but wild symbols are notably absent from this game.
Throughout the gameplay, you have the chance to land Multiplier Symbols of four different colors: red, green, blue, and purple. These symbols carry multiplier values ranging from x2 to an impressive x500. In each round, all multiplier symbols that appear are combined to enhance your overall tumble sequence win.
Hockey Bonanza Screenshots
Bonus Rounds
To trigger the Bonus Round, you need to land 3, 4, or 5 hockey player scatters anywhere on the reels. Depending on the number of scatters, you receive an upfront payout of 3x, 5x, or 100x your stake, respectively. Regardless of the triggering scatters, you are awarded 15 free spins. During the Bonus Round, the multiplier symbols used in winning combinations contribute to the global win multiplier, which continues to increase throughout the feature. The multiplier accumulates as long as the bonus round lasts, and you can earn an additional +5 free spins by landing 3 or more scatters in the same free spin tumble sequence.
For players seeking increased bonus round opportunities, the Ante Bet feature can be activated between base game spins. By enabling the Ante Bet, you double your chances of triggering the bonus round. The cost for this advantage is an additional 25% per spin, but it does not affect the game's RTP or paytable.
Furthermore, eligible non-UK players have the option to utilize the Bonus Buy feature. By paying 100 times your stake, you can guarantee the appearance of 3 or more triggering scatters on the following spin, expediting access to the lucrative Bonus Round.
Please note that the availability of certain features or options may vary depending on jurisdiction and eligibility.
While Hockey Bonanza may not stand out significantly in terms of visuals, there is a lively hockey player on the right-hand side of the screen who occasionally springs to action. This animated character showcases impressive moves, particularly when you achieve a win or trigger special features.
Engaging Gameplay

Additive Multiplier Symbols

Decent Maximum Win
Limited Appeal

Visual Presentation

Hit Rate
Hockey Bonanza's appeal primarily lies in its hockey theme and gameplay mechanics. If you're not interested in hockey, you may not find the game as engaging or enjoyable as someone who appreciates the sport.
The additive multiplier symbols in Hockey Bonanza contribute to increasing the win multiplier during tumble win sequences and the bonus round. These multipliers combine to boost your potential winnings, adding an extra layer of excitement to the gameplay.
The hit rate for the maximum win in Hockey Bonanza is approximately 1 in 697,350 spins, based on the observations from a similar Pragmatic Play game, Gates of Aztec. This indicates that achieving the highest payout may require a considerable number of spins.