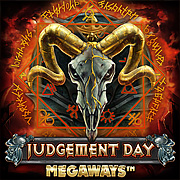 Enter the world of Judgement Day Megaways, a new casino slot from Red Tiger Gaming set against a backdrop of impending doom. Amidst thunder and lightning, a mystical seal summons the four horsemen of the Apocalypse, each offering unique blessings of random Wilds, split winning symbols, or other wild revelations.
Play Judgement Day Megaways Online Slot For Free
Judgement Day Megaways RTP — 90.72%-96.0%
What is RTP in slots?
You need to check the RTP before playing Judgement Day Megaways, casinos can reduce the percentage of returns to the player.
Play Judgement Day Megaways For Real Money
Play Judgement Day Megaways in trusted casinos. We give a guarantee for the casino in the reliable casinos section.
Mayhem
By Red Tiger Gaming
Zillard King
By Red Tiger Gaming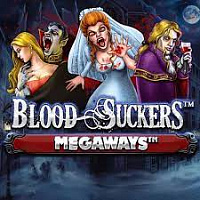 Blood Suckers Megaways
By Red Tiger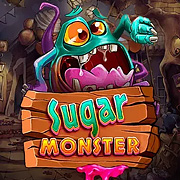 Sugar Monster
By Red Tiger
It's a community widget, visit community tab for full experience
Judgement Day Megaways
Judgement Day Megaways Slot Review
How to play Judgement Day Megaways
Judgement Day Megaways is a video slot developed by Red Tiger Gaming that employs the Megaways format, featuring six reels with varying rows, ranging from 2 to 7. This configuration provides up to 117,649 ways to win. With a minimum bet of 0.1 and a maximum bet of 4, players can navigate this dark world. The game offers multiple RTP options, including a default rate of 95.71%, as well as variants with RTPs of 94.67%, 92.77%, and 90.73%. Boasting high volatility and a remarkable max win potential of 100,000 times your bet, the slot maintains an enticing hit rate of 32.59%, ensuring frequent wins.
Embrace the Features
While the end of the world may be chilling, Judgement Day Megaways introduces several engaging features to enhance gameplay. These include the Wild Symbol, Cascading Wins, Horsemen of the Apocalypse, and Free Spins.
Experience the Apocalypse
Judgement Day Megaways plunges players into a nightmarish landscape, reminiscent of the apocalyptic themes found in Abrahamic religions. The game's backdrop is a horrifying realm replete with death skulls and eerie pillars adorned with devilish faces. Two skeletal hands are bound to the reels, further intensifying the sinister ambiance. To achieve a winning combination, players must land at least 3 matching symbols on adjacent reels, commencing from the leftmost reel. This eerie adventure is accessible on various devices, including mobile phones.
Symbolic Payouts
The game's lower-paying symbols are represented by clubs, diamonds, hearts, spades, and stars, with 6-of-a-kind wins awarding between 0.4X and 0.8X the bet. Meanwhile, the higher-paying symbols include arrows, an axe, a handle, a sword, and a death skull, offering 1X to 5X the bet for a 6-of-a-kind win. The Wild Symbol can substitute for all standard symbols to form winning combinations, except for the Scatter Symbol or Seal Symbol.
Judgement Day Megaways Screenshots
Horsemen of the Apocalypse
Triggered by the Seal Symbol, the Horsemen of the Apocalypse feature summons one of four riders who bestow various modifiers:
Conquest: Randomly scatters Wild Symbols across the middle four reels.
War: Splits random paying symbols in half, doubling winnings and expanding ways to win.
Famine: Selects two reels at random, applying a multiplier to each reel based on the symbol count of the other reel, with a maximum 7X multiplier.
Death: Drags down one or two of the middle four reels to reveal Wilds with symbol multipliers, with larger multipliers for lower positions on the reel.
Unveil the Apocalypse in Free Spins: Landing 3 Scatter Symbols triggers 8 Free Spins, where a chosen horseman guides each spin. Additional horsemen can be activated by landing Seal Symbols during Free Spins.
Judgement Day Megaways offers a thrilling apocalyptic slot experience enhanced by the presence of four formidable horsemen and Free Spins. These horsemen introduce unique modifiers to the reels, such as random wilds, split symbols, multipliers, and additional wilds with symbol multipliers, adding depth and excitement to the gameplay.
Exciting Theme

Megaways Mechanic

High Volatility

Unique Features

Max Win Potential
High Volatility

Complex Features

Lower RTP Options
The game offers a maximum win potential of 100,000 times your bet, providing the opportunity for substantial payouts.
Judgement Day Megaways employs the Megaways mechanic, offering up to 117,649 ways to win on the reels.
Yes, the game provides several RTP options, including a default rate of 95.71% and lower RTPs of 94.67%, 92.77%, and 90.73%, which game operators can choose from.