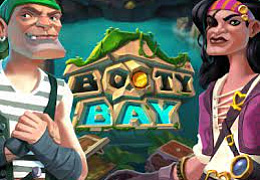 Ahoy! In Booty Bay, the new online slot from Push Gaming, you go on an adventurous treasure hunt with a bunch of pirates. You do this on a 5×5 playing field, where you win with the help of a cluster system.


Play Booty Bay Online Slot For Free
Booty Bay RTP — 94%-96.41%
What is RTP in slots?
You need to check the RTP before playing Booty Bay, casinos can reduce the percentage of returns to the player.
Play Booty Bay For Real Money
Play Booty Bay in trusted casinos. We give a guarantee for the casino in the reliable casinos section.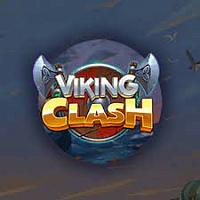 Viking Clash
By Push Gaming
Bison Battle
By Push Gaming
Nightfall
By Push Gaming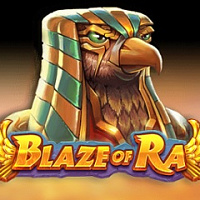 Blaze or Ra
By Push Gaming
Booty Bay has high volatility, which means you can expect big wins, but very rarely. The maximum RTP in the slot is 96.41%, but remember that casinos can underestimate this figure, so check this information every time before you start playing.
What is the maximum possible win in Booty Bay?
The maximum possible win in the Booty Bay slot is x20000.
Top Big Wins at Booty Bay
We could not find the maximum win, but we have compiled a selection of good big wins in the Booty Bay slot
Unknown player - x835
The player got a good win in the bonus game, thanks to the moving wild symbols and the multipliers, which grew with each winning combination collected.
SPINLIFE - x1379
Thanks to the cluster system of winnings and moving wild symbols, the streamer collected good combinations that brought her this win.
What are the chances and is it even worth trying to get max win in Booty Bay?
The chances of winning the maximum are small. There is no possibility of buying a bonus game in the slot, and without it, the maximum you can count on is x50 from your bet. You will have to play for a long time to reach the bonus, where there are also no guarantees to get the maximum win right away. But if you decide to take a chance and try your hand, we recommend playing with the highest possible RTP in order to leave yourself a chance of winning.
It's a community widget, visit community tab for full experience
This allows you to win up to 20,000 times your stake. We see the pirate theme more often in online casinos, such as Star Pirates code, Lucky Pirates and Pirates 2: Mutiny Slot.
You can bet in Booty Bay from as little as €0.10 per round. The maximum bet is €100. So, treasure hunters of all categories can have a go in this quest for riches! With a payout percentage of 96.41% and a number of lucrative features, Booty Bay ensures that playing remains fun. We explain the features further on, no worries!
Do you want to know how to find the ultimate treasure and what you have to do in this slot machine? Then read on, because we prepared a treasure map for you.
How does the slot machine work?
Booty Bay Bonus Features
Booty Bay Screenshots
How does the slot machine work?
The Booty Bay playing field contains 5 reels and 5 rows. Within your playing field there is a 3×3 Hotzone. More on this later. A winning cluster in this slot machine contains at least 6 identical symbols (next to / below each other).
With the help of this cluster system and some really nice features you can win back up to 20,000 times your stake in total. The minimum bet in Booty Bay is only €0.10, but if you like serious amounts you can bet a maximum of €100 per round.
Booty Bay has a typical Push Gaming interface. Betting and playing therefore go quite naturally. In this slot machine you cannot use an Autospin function and there is also no real turbo spin. However, you can skip the animations if you want by pressing the play button.
What is good to know is that Booty Bay has 9 paying symbols and 4 special symbols. The latter play an important role in triggering certain features. Read on if you are curious about what these features do and how exactly you trigger them.
Booty Bay Bonus Features
Like the contents of a treasure map, the contents of a slot machine are crucial to the success of the adventure. The features are of course the content of a slot machine and Booty Bay has some very nice features. You can read below what these are and how you trigger them.
wild symbol
We start with the basics. Like many other slots, there is a Wild in Booty Bay. Entirely in the style of the theme, it is a large treasure chest. In addition to replacing paying symbols, this symbol lands with a multiplier.
hot zone
We already hinted at this before: the Hotzone. In the middle of the reels, you see a kind of island of 3×3 size. If you land a Wild in the Hotzone, you trigger a respin. This happens every time you land a new Wild in this zone. With every respin, the Wild moves to a bordering square and the multiplier increases by 1.
Locking Wilds
You trigger this by landing the Locking Wild symbol in your playing field. All Wild symbols in the Hotzone remain fixed for 3 spins. With each respins their Multiplier value increases and Wilds can also land outside the Hotzone, these are not fixed.
Swirling Rapids
You trigger this by landing the Swirling Rapids symbol. You will receive a respin and Wilds that are outside the Hotzone will be brought here. During that respin, the Wilds remain in place and their Multiplier naturally increases as well.
treasure map
A treasure-related feature cannot be missed in a pirate slot machine, of course. You trigger this feature when you land the Treasure Map in your playing field. You will then be shown 6 crosses with a nice prize hidden behind it. The reward ranges from special symbols to hefty Multipliers up to x5,000
Triple Wild Lock
You trigger this last feature by landing 3 Wilds in the playing field. All Wilds in the Hotzone are locked for 3 repsins and the value of their multiplier increases by +1 with each respin. If you manage to land a new Wild in the Hotzone during one of the respins, it will also remain.
When the respins complete, the Wilds move to an adjacent space. If a Locking Wild lands during the respins, the respin counter resets to 3.
Booty Bay Screenshots
Booty Bay shows in everything that it is a pirate slot machine. From music to the background and the symbols in the game; you just can't get around the pirates and their treasure.
The features are nicely conceived by Push Gaming and provide enough variation so that you as a player do not get bored easily. We think the Hotzone is a very nice addition to make playing even more spicy.
Booty Bay's betting range is fine and the payout percentage is also not to be faulted. Since we have actually not come across any negatives, Booty Bay deserves a valuable 4 out of 5 stars!


Nice graphics and sound effects;

The possibility of a big win;

Wide range of bets;

Variety of functions;

Simple rules;

High volatility.
Not the highest percentage of refunds to players.
The maximum win is capped at 20,000 bets.
Maxbet is equal to 100 dollars.
The slot has a convenient mobile version.