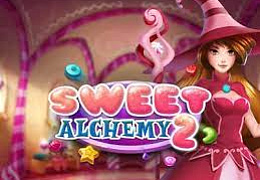 Embark on a delightful journey through the enchanting world of Sweets Alchemy 2, a brand new casino slot game created by Play'n GO. Immerse yourself in a candy-filled adventure where you can indulge in tasty prizes and experience an array of fantastic features. Building upon the success of its predecessor, Sweet Alchemy, this sequel introduces exciting new elements to captivate players.
Play Sweets Alchemy 2 Online Slot For Free
Sweets Alchemy 2 RTP — 78%-96.20%
What is RTP in slots?
You need to check the RTP before playing Sweets Alchemy 2, casinos can reduce the percentage of returns to the player.
Play Sweets Alchemy 2 For Real Money
Play Sweets Alchemy 2 in trusted casinos. We give a guarantee for the casino in the reliable casinos section.
Dawn of Egypt
By Play'n GO
Slashimi
By Play'n GO
Rocco Gallo
By Play'n Go
Sweet Alchemy
By Play'n GO
It's a community widget, visit community tab for full experience
Sweets Alchemy 2
Sweets Alchemy 2 Slot Review
In Sweets Alchemy 2, the candy grid starts as a 5x5 layout but expands with each winning combination, reaching its maximum size. This dynamic feature adds an element of anticipation and rewards players as they progress. Additionally, the game offers thrilling bonuses such as Free Spins, a Bonus Wheel, and two types of Wild symbols, each with lucrative prizes waiting to be won. With the potential to win up to 10,000 times your initial bet, this slot game promises excitement and substantial rewards.
If you thought you had experienced all that candy-themed slots had to offer, think again. Sweets Alchemy 2 presents a world of surprises and delights, inviting you to discover what lies in store for you within its sugary universe. Prepare to be amazed as you delve into this captivating slot game and uncover its sweet secrets. Are you ready to satisfy your craving for a truly extraordinary gaming experience? Let's find out.
Base Game
Main theme
Sweets Alchemy 2 Screenshots
Bonus features
Base Game
Sweets Alchemy 2 by Play'n GO is a video slot set in a delightful candy-themed environment, complete with a candy playground as its backdrop. The game features a grid with nine reels and nine rows, initially starting with five reels and five rows. As you achieve winning combinations, new fields unlock, allowing for expanded gameplay. Embracing a cluster pay mechanic, the slot showcases the beauty of nature and offers a medium-high volatility, setting the stage for thrilling gameplay and the opportunity to claim exciting prizes. The game's default RTP is 96.2%, and it provides a flexible betting range, with a minimum bet of 0.1 and a maximum bet of 100. Beyond its enticing mathematical model, Sweets Alchemy 2 offers the potential to secure rewards of up to 10,000 times your initial bet.
To enhance the fun within this candy-filled world, the game introduces enticing features such as Striped & Gobstopper Wilds, Free Spins, and a Bonus Game with a Multiplier.
Main theme
While some may associate candy-themed games with children, those familiar with the immensely popular Candy Crush Saga know better. This mobile game elevated the candy gaming experience, offering rounds that range from easy to complex, providing both challenges and excitement. The name "Sweets Alchemy" combines two words: "sweets," also known as candy, and "alchemy," an ancient practice of chemistry focused on transforming base metals into noble ones and creating the elixir of immortality.
Sweets Alchemy 2 serves as a sequel to Sweet Alchemy, seamlessly merging these two themes to continue the legacy of a long list of candy-themed slot games, ensuring players enjoy fun and immersive gaming experiences. One of the delightful aspects of candy slots is the visual appeal of the background images, reels, and candy symbols, which transport players to a vibrant candy shop atmosphere. Play'n GO has crafted this slot game against a candy-filled world backdrop, featuring candy rivers, clouds, and multicolored elements. A whimsical, hat-wearing fairy-like spectator accompanies you, enhancing the overall player experience. Whether you're playing on a mobile device or desktop, you can enjoy the game's relaxing ambiance complemented by soothing background music. The fairy-like alchemist lady adds a personal touch to the gameplay, reminiscent of other slot games with spectators, such as Gonzo's Quest.
Sweets Alchemy 2 Screenshots
Bonus features
Sweet Alchemy 2 is a slot game that introduces two types of Wild symbols to enhance your gameplay. The Gobstopper Wild, with up to 5 lives, can substitute for other symbols, while the Striped Wild removes entire rows and columns when it helps complete a winning combination.
To trigger Free Spins, you need to destroy all the chocolate blocks in the base game. Once activated, you receive 4 free spins and two 2x2 mega symbols. The chocolate blocks remain active during the free spin round, and destroying them grants retriggered spins, larger 3x3 mega symbols, and eventually massive 4x4 mega symbols. You can enjoy up to 12 free spins in total.
In addition to Free Spins, the game features a bonus collection meter that fills up as you play. Collecting the required number of symbols triggers a potion bottle reward, granting more bonus spins. Once the free spin round concludes, you'll have a chance to spin the Bonus wheel, which offers various multipliers. Landing on a winning segment increases the game multiplier by up to 25x, significantly boosting your total win from the free spin round.
Sweet Alchemy 2 builds upon the success of its predecessor, which was introduced to the slot gaming community in 2018. With improved graphics, enhanced music quality, and more substantial rewards, this sequel promises an even more exciting and rewarding experience for players.
Engaging Gameplay

Lucrative Features

Beautiful Design
High Volatility

Complexity for Beginners

Limited Availability
In Sweet Alchemy 2, the game starts with a 5x5 grid, and with each winning combination, new fields unlock, expanding the grid. This allows for more potential winning combinations and adds excitement to the gameplay.
Sweet Alchemy 2 features two types of Wild symbols: the Gobstopper Wild and the Striped Wild. The Gobstopper Wild has up to 5 lives and substitutes for other symbols, while the Striped Wild removes rows and columns to help complete winning combinations, increasing your chances of bigger wins.
The maximum win in Sweet Alchemy 2 is 10,000 times your initial bet, offering the potential for substantial rewards during gameplay. Keep in mind that achieving this maximum win requires a combination of luck and strategic gameplay.